Don't Forget: NTX Giving Day - 9/23/2021
Give starting 9/1/2021 through 9/23/2021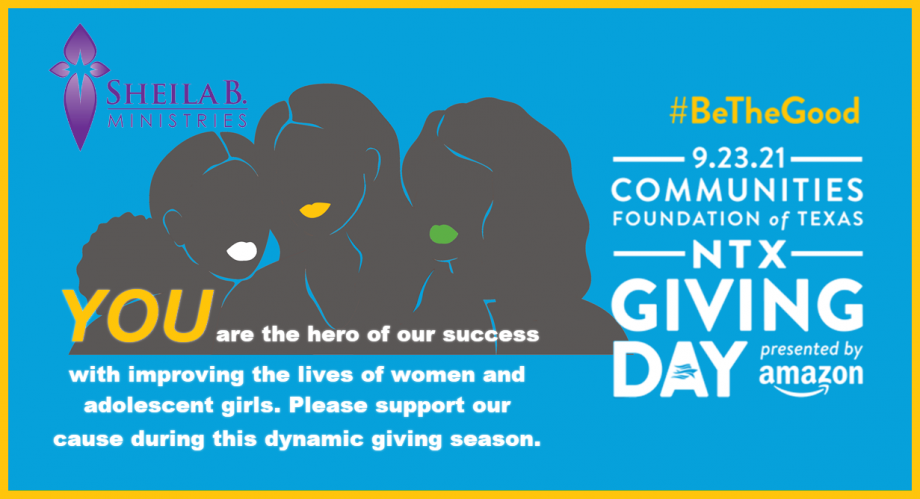 ---
"Give, and it will be given to you. A good measure, pressed down, shaken together and running over, will be poured into your lap. For with the measure you use, it will be measured to you." Luke 6:38.
Four Methods to Give:
Amazon Smile, Double the Donation, PayPal or
Check/Money Order
---
Amazon Smile
If you shop online, chances are you've shopped in the largest online mall on the planet, Amazon.com. Sheila B. Ministries has become part of the Amazon Smile program that enables online shoppers to give to their favorite charities while shopping. Best part of it is, while you do the buying, Amazon does the giving - up to .5% of all of your Amazon.com purchases can be donated automatically to Sheila B. Ministries! Please take 60 seconds and sign up. It's a win…win…you can shop and give at the same time! Here are the easy steps for signing-up:
If you don't already have an Amazon Smile account:
Visit: https://smile.amazon.com/ch/27-2139433
Follow the steps provided to set up your Amazon account.
Log back in to your new Amazon Smile account.
A window should instantly pop up, asking you to "Select a Charity" Type in "Sheila Bailey Ministries, Inc." and choose "Select" when "Sheila Bailey Ministries, Inc." is shown.
If you already have an Amazon Smile account and need to change your selection to Sheila Bailey Ministries, do this:
Visit:
https://smile.amazon.com/ch/27-2139433
Log into your Amazon Smile account. In the upper left corner, you'll see a message about who you are supporting - "Supporting...."
Mouse over the name of the current charity and when the window expands, click "Change."
In the search text box, "Or pick your own charitable organization:" type, "Sheila Bailey Ministries." When the name appears, click the "Select" button.
NEW: AmazonSmile is now available in the Amazon shopping mobile app!
If you are an AmazonSmile customer, you can now support Sheila Bailey Ministries Inc in the Amazon shopping app on your Android device! Simply follow these instructions to turn on AmazonSmile and start generating donations.
If you have the latest version of the Amazon Shopping App, open the App on your Android device.
View Settings and select AmazonSmile.
Follow the in-App instructions to complete the process.
If you do not have the latest version of the Amazon Shopping App, update your App. Click
here
for instructions.
Note: AmazonSmile is not currently available for iOS users. We will notify AmazonSmile charities when it becomes available

Double the Donation
Many corporations support employee charitable giving through matching gifts and volunteer grant programs. We are very excited to introduce our partnership with Double the Donation, matching gifts made easy, an opportunity to help elevate the capability of our donor's contributions. Imagine...your donation may even be doubled! It's a win-win! Please click on the link below to see if your employer will match your donation, and then contact your employer's Human Resources office for processing procedures. We greatly appreciate your continued support of Sheila B. Ministries. Click:

Sister Jacqueline Lavallais shares a powerful message about the impact of
Sheila Bailey Ministries in this video - Click it, don't miss it!



PayPal
Click the DONATE button to give to Sheila B. Ministries a ONE TIME DONATION.


Click the SUBSCRIBE button to give to Sheila B. Ministries a RECURRING DONATION.
Check or Money Order
Mail your check, money order and/or pledge to:
Sheila B. Ministries
P.O. Box 3150
DeSoto, TX 75123
Phone: (972) 767-6440 | Toll-Free: (844) 974-3452 | Fax: (844) 339-2911
Email: admin@sheilab.org
*Suggested Monthly Support Levels:
$25 | $50 |$100 |$200 |$500 |$1000
(Please let us know when you plan to start your monthly support.)
Your donations are tax deductible.
Your pledge or recurring gift may be changed or cancelled at any time.
---
Your Donations at Work
Dear Ministry Partner,
Your giving is more than a donation…it is an investment in the lives of women and girls. Thanks to your generosity we are fulfilling our Mission, and impacting communities by providing life-changing programs for women and girls. A Project Rebuild
™
student shared with the instructor how her life has changed after being incarcerated and is now a graduate of the program. "Oh, where do I start? I have a one year old and an eighteen year old in college. There are so many things that I learned in our classes that helped me with both of my daughters. It helped too that everyone was engaged in the conversation and we were able to share our struggles together." When asked what her biggest take away is, she shared, "That I'm not alone! The teachers taught us parenting skills but also shared God's word in the Bible to help me and the other ladies with the issues that we struggle with."
We are committed to putting your donation dollars to work. Sheila B. Ministries sponsors the following programs:
Speak Young Sista™ - P

repares young girls for public speaking and helps them to develop a sense of pride and accomplishment.

Project Rebuild™ - A re-entry program for newly released women involved in the criminal justice system in partnership with Engage Positive Parenting Initiative, H.I.S. Bridgebuilders and Exodus House. The goal is to help them assimilate into society by developing life skills and opportunities for GED completion.
Mission Jamaica - Sheila B. Ministries, in partnership with Concord Church helps to spread the Gospel in Jamaica, and sponsors the Makeovers with Leftovers Conference.
Teaching God's Word - Speaking engagements in churches and organizations throughout the United States and Caribbean and sponsoring Makeovers with Leftovers events. .
During this season of giving, please prayerfully consider making a special year-end gift to Sheila B. Ministries, Inc. by
December 31st
. Your contribution will enable us to achieve our financial goal for the 2016 Fundraising Campaign, and give back to the community, one woman…one girl at a time. You may give a one-time gift, monthly gift, memorial gift, or consider doubling your donation dollars through an employer matching gift. Please respond with your gift and commitment level by
December 31st
.
We greatly appreciate your continued support of Sheila B. Ministries, and pray the blessings of our Lord upon each giver and gift. Merry Christmas and Happy New Year!

Sincerely,

Dr. Sheila M. Bailey, President
Dr. Dan E. Jones, DPM, Chairman of the Board

---
Focus On: Project REBUILD™ and Speak Young Sista™
Listen as Shenikwa informs you about these special programs.

Now, how's that for having a lasting impact???
We wholeheartedly appreciate your continued support of Sheila B. Ministries, and pray the blessings of our Lord upon you. Your investment provides the resources to help impact and "makeover" lives…one girl…one woman at a time.

---
Sheila B. Ministries Fundraising and Development
Sheila Bailey Ministries is a Christian-based, Christ-centered 501(c)(3) ministry focused on enriching communities through educating and transforming the lives of women. At the heart of Sheila Bailey
Ministries is empowering women to live victoriously in all seasons of their lives. The ministry
provides resources for women to refocus, restore, and rebuild their lives through a lifestyle makeover.
Our goal is to minister to women by developing and implementing initiatives and programs to assist in the support, learning, networking and sharing with all women.
Each year we host three fundraisers to help generate funds to undergird the ministry. These events allow us to finance our ongoing ministry expenses such as administrative staff, workshops, conferences, adoptive ministry partners and other ministry initiatives.
Please partner with us by making a financial contribution. We are appreciative of any amount you are able to make. We invite you to join us by making a monthly commitment to support Sheila B. Ministries.